HLA could not be more thrilled: our authors won in two of the three categories in the competition for the most prestigious literary award of the year!
Iida Rauma's novel Destruction won Finlandia Prize for the best fiction book of the year; Sofia and Amanda Chanfreau's  novel for children, A Giraffe's Heart is Unbelievably Large, won Finlandia Junior, given to the best children's or YA book.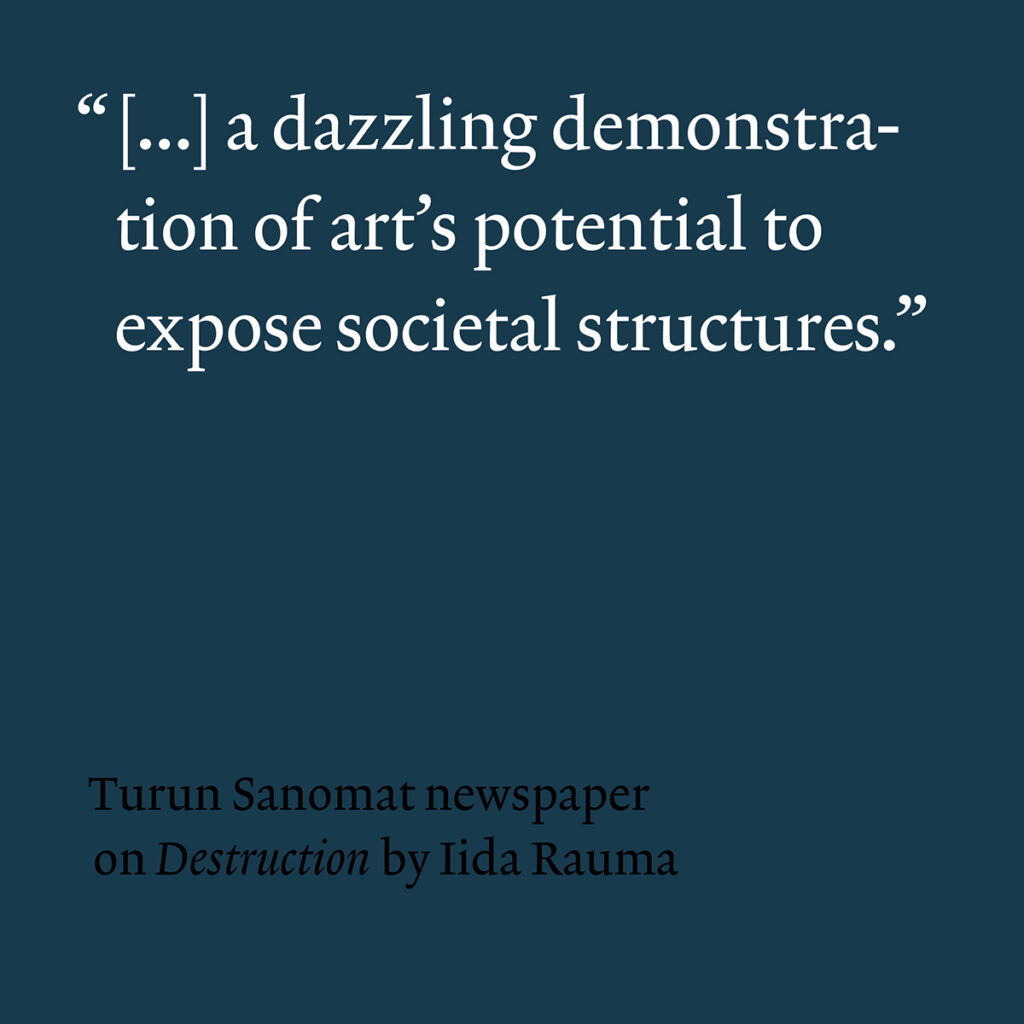 Destruction came out in January 2022, instantly gaining an impressive amount of praising reviews – resulting in the first-print run selling out in a week. Swedish rights were recently sold to Rámus Förlag.
One of the strongest literary titles of the year in Finland, Destruction has brought the question about violence towards children and the societal structures supporting it a visible topic in public discussion. "No other type of violence is talked about in the same way as acts and attitudes towards children in school. Such deeds are allowed in the school environment that in the adults' world would be subject to criminal law," has Iida Rauma said in one of her interviews.
"Destruction is a novel about school violence, discrimination and injustice. Describing the merciless consequences of school bullying, the novel becomes an extraordinary stand regarding the dynamics of discrimination of all kinds which, in Rauma's book manifests itself as the protagonist's complete emotional breakdown. Destruction is a fierce reading experience: the intense narration doesn't give the reader even a minute's break."
– Finlandia Prize Jury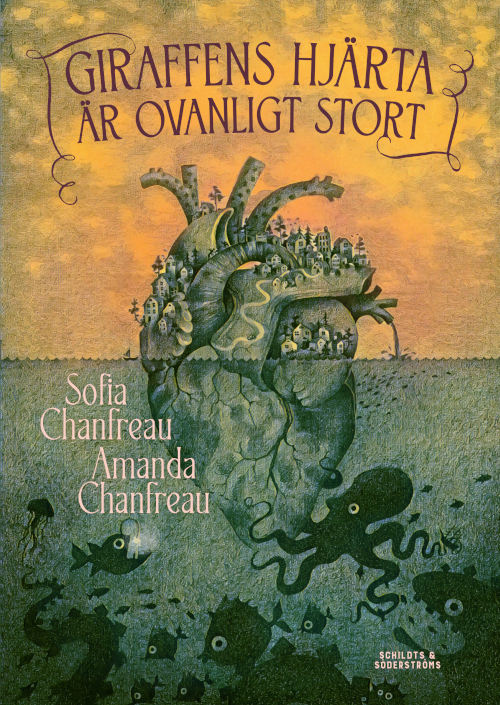 A Giraffes's Heart is Unbelievably Large, is a tale of longing to be part of a family, to find one's place in the world, and to be loved as one is.
The novel is a story of childlessness and dreams that fade or morph into nightmares. Page by page, it swells with inevitable force into a horror story that firmly holds the reader in its agonizing grip.
Whenever a ten-year-old Vega, who has always lived with her father, tries to ask about her mother, the only answer she gets is mysteries. Once a not-so-nice girlfriend starts dating her father, and Vega gets an unexpected pen pal, she decides to set out on an adventure to find out more about her mother. The book is a superb read for a child alone or for parents and children together.
The novel is now also nominated for the prestigious Runeberg Junior Prize.
"In its magical realism, the work takes us to places and moods that shimmer with something rare and fine. We see the world through the eyes of the narrator and the main characters, and captivating connections form between fantasy and reality. The narration is borne along by beautiful language, surprising transitions, and humor. Equally generous and idiosyncratic are the book's illustrations, which carry us off to milieus we are in no hurry to leave."
– Finlandia Junior Prize jury
Additionally, Eeva Turunen's novel A Nice, Civilised Individual was voted readers' favourite among the nominees.
Finlandia Prize is the most important literary award in Finland, given annually in three categories: the best novel, the best children's or YA book and the best nonfiction book of the year. The award sum is 30,000 euros in each category.
Since 2010, at least one HLA author each year was nominated for the prize, and 7 of them ended up winning.

Winners in the category of the best novel include:
Anni Kytömäki (Margarita, 2020)
Juha Hurme (Headland, 2017)
Jukka Viikilä (Watercolours from a Seaside City, 2016)
Riikka Pelo (Our Earthly Life, 2013)
Ulla-Lena Lundberg (Ice, 2012)
Mikko Rimminen (Red Nose Day, 2010)
Pirkko Saisio (The Red Book of Farewells, 2003)
Kari Hotakainen (The Trench Road, 2002)

Past nominees for the prize include:
Marja Kyllönen (Undeparted, 2022)
Eeva Turunen (A Nice, Civilised Individual, 2022)
Matias Riikonen (Matara, 2021)
Marjo Niemi (Hearing, 2021)
Pirkko Saisio (Passion, 2021)
Mikko Rimminen (If It Looks Like It, 2019)
Pauliina Rauhala (Harvest, 2018)
Peter Sandström (Autumn Apples, 2016)
Selja Ahava (Things that Fall from the Sky, 2015)
Anni Kytömäki (Goldheart, 2014)
Jenni Linturi (For Fatherland, 2011)
Alexandra Salmela (27, or Death makes an Artist, 2010)

Finlandia Junior Prize has been previously awarded to 5 HLA authors:
Anja Portin (Radio Popov, 2020)
Marisha Rasi-Koskinen (The Dark Side of the Sun, 2019)
Sanna Mander (The Lost Key, 2017)
Vilja-Tuulia Huotarinen (Light, Light, Light, 2011)
Tomi Kontio (Wings to the Other Side of the World, 2000)
Past nominees of the prize include
Ellen Strömberg (We'll Just Ride Past, 2022)
Saara Kekäläinen & Reetta Niemensivu (Penelope and the Perilous Porridge, 2022)
Anssi & Maija Hurme (Shadowed, 2018)
Tomi Kontio & Elina Warsta (A Dog Called Cat Meets a Cat, 2019)
Congratulations to the authors!