Anna-Liisa Ahokumpu's
THIRTEEN SYMPHONIES OF VIKTOR STANISLAUS
and Sisko Savonlahti's
MAYBE THIS SUMMER EVERYTHING WILL CHANGE
have been nominated for the best debut novel of the year prize.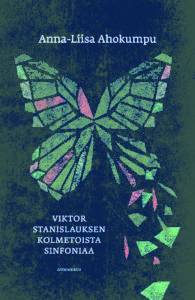 THIRTEEN SYMPHONIES OF VIKTOR STANISLAUS
A boy who did not know his father. A mother who fell in love with the wrong man. Music that fell silent for a lifetime.
 These are the themes in Anna-Liisa Ahokumpu's (b. 1984) beautiful debut novel that has been described as a polished, assured and powerful story in a minor key.
Butterfly collector Max Halma finds a rare butterfly among his late mother's effects. Chance seems to bring him closer to international recognition than ever before, but at the same time he's forced to dive deep into his own past, searching for the father he never knew. The deeper Max goes in his investigations, the more questions arise. What really happened to his father in the spring of 1942? When the tracks lead from archives in northern Finland a brilliant pianist's last concert in Hamburg, the secrets of the past begin to be revealed.
 "A novella that doesn't expand beyond its limits is a disappointment. […] The Thirteen Symphonies of Viktor does expand, beyond all measure.  […] Ahokumpu writes prose that is skilfully artistic. We can say this: when a butterfly beats its wings during the war near Rovaniemi, people will suffer the consequences for decades – and at some point, in Germany, their actualisations, symphonies."
– Helsingin Sanomat newspaper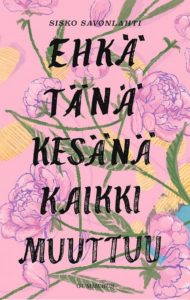 MAYBE THIS SUMMER EVERYTHING WILL CHANGE
"I know I have to shape up soon. But I just want to lie on the balcony and think about my ex for a bit longer."
These are the thoughts of a young woman in her flat. It's nearly summer, the time to get over her breakup. She has to get up from the doldrums, find a job, fall in love, kickstart a spiral of positive thinking. But should she fulfil other people's expectations or act according to her heart's desire? How do you know what is your heart's desire? So many questions, often much less tempting than examining the soil in your plant pots, texting friends or mixing the dip for crisps.
Sisko Savonlahti's (b. 1982) praised first novel has its finger firmly on the pulse. It's a frank, sharp story of a young citydweller, a woman with a need to achieve, relentless chase for happiness and an attempt to initiate a spiral of positivity.
"Maybe This Summer Everything Will Change is not sad but instead amusing and hopeful. Savonlahti has anchored the story of the quotidian of her everywoman into acute perceptions, minimalist repetitions reminiscent of Philip Glass' work where the change is noticeable only when it's already occurred. After all the decisive businesswomen and romantic plot twists in chick lit today, this book feels fresh and honest, even rebellious. The thought that a regular woman's life warrants a story!"
– Helsingin Sanomat newspaper