Juha Hurme's HEADLAND, described as a magnificent cultural history of the world, has won the Finlandia, Finland's most prestigious literary prize, as the best novel of the year.
Sanna Mander's THE LOST KEY, a wonderfully illustrated children's book, has won the Finlandia Junior Prize, given to the best children's or young adult title of the year.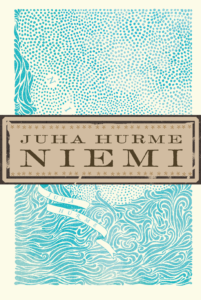 HEADLAND tells the story of the Finnish peninsula from the Big Bang to the historically important year of 1809. The wildly humorous novel moves at an amazing pace through some billions of years and grows into an open-minded cultural history of the world.
The Finlandia Prize nominations board said that the novel "treats the myth of Finland and the Finns with all the knowledge that our culture contains. A scope of this breadth can only be explored with the magnificently dilettante literary style in which Hurme boldly challenges both the legendary Egon Friedell and Zachris Topelius.'
Juha Hurme (b. 1959) is one of the most original and best-known theatre directors and scriptwriters in Finland. He has directed numerous successful plays to several theatres. His previous four novels were all published wide critical acclaim.
The novel was published by Teos Publishers.
THE LOST KEY is an illustrated children's book about life in an apartment building. There is a princess in a small room, tired of living in her thousand-room castle. There is a ghost in need of a cleaning lady, a magical merry-go-round in the attic, and a gallery of other curious and intriguing characters. But in which apartment is the lost key?
Described by the nominations board as "a hilarious journey into an apartment building and the lives of its inhabitants, the book also speaks for diversity, without preaching. The words and illustrations work together seamlessly both in Finnish and Swedish. The spreads with their delicious visual details give an experience where everything is in the right place."
The title was published in Swedish by Schildts & Söderströms and in Finnish by S&S.
Sanna Mander (b. 1980) grew up in Stockholm, Sweden. She  studied graphic design in Helsinki and now lives there with her family. Mander has illustrated children's and young adult titles published in different countries, and  has also designed textiles, packing, posters and book covers.
Helsinki Literary Agency started at the beginning of this year as a joint venture of three independent Finnish publishing houses: Gummerus, Teos Publishers and Schildts & Söderströms.
The agency has on its list four previous winners of Finlandia Prize: Mikko Rimminen's RED NOSE DAY (Teos Publishers, 2010) Ulla-Lena Lundberg's ICE (Schildts & Söderströms, 2012), Riikka Pelo's OUR EARTHLY LIFE (Teos Publishers, 2013) and Jukka Viikilä's WATERCOLOURS FROM A SEASIDE CITY (Gummerus, 2016).