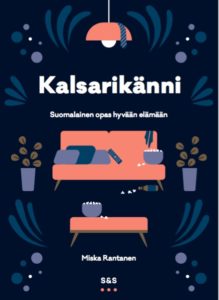 Journalist Miska Rantanen's upcoming lifestyle book KALSARIKÄNNI – PANTSDRUNK: The Finnish Path to Zen was sold to nine areas during the Frankfurt fair and the next couple of weeks.
The World English rights were acquired by HarperCollins USA in an auction, the German rights by Goldmann (Penguin RandomHouse) in auction as well and the Dutch rights by Uitgeverij Q, likewise in auction.
The Swedish rights were acquired on the night before the Frankfurt fair by Kristoffer Lind from Lind & co.. The Hungarian rights are with Kossuth, the Estonian with Post Factum (Eesti Meedia), the Spanish with Zenith (Grupo Planeta), the Russian with Alpina and the Brazilian Portuguese rights with Letramento.
The book, coming out in Finnish by S&S in February 2018, has been described as "Zen with an edge from the madcap siblig of the Nordic family".