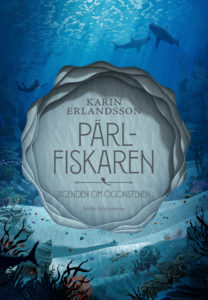 Karin Erlandsson's adventurous children's novel The Pearl Fisher has been sold to Sinisukk in Estonia.
Sinisukk is one of the biggest publishers of children's literature in Estonia, with authors such as Astrid Lindgren, P. L. Travers and Rachel Renée Russell on their list.
Pearl Fisher is the first book of four part series Song for the Eye Gemstone. It won the publisher's children's novel competition, was nominated for Arvid Lydecken Prize and won the prestigeous Runeberg Junior Prize in February 2018. At the moment is nominated for the Nordic Council Literature Prize in two categories (Finland and Åland).
Karin Erlandsson (b. 1978) works as a journalist in Åland. She has written before three novels for adult readers, The Mink Farm (2014) shortlisted for the Nordic Council Literature Prize, and a cook book. The Pearl Fisher (2017) is her first children's novel.