To celebrate the 50th anniversary of diplomatic relations between Korea and Finland, Finland has been invited as a guest of honor to the Nami Island International Children's Book Festival. With support from FILI, Helsinki Literary Agency, along with other literary agents and illustrators from Finland, had the opportunity to spend a week in Korea during the days of the festival.
For years Korea has been considered a difficult market for translated titles, but our May trip has proved this wrong. Our agents Urpu Strellman and Viivi Arela had meetings with nearly 20 publishers and received a significant number of offers for various titles from our catalogue – Gorilla by Miika Pörsti & Anne Vasko; Night Express by Karin Erlandsson & Peter Bergting; Penelope and the Big Baby Tooth Ballyhoo by Saara Kekäläinen and Reetta Niemensivu; The Unicorn by Ilja Karsikas; Under the Moon by Aki-Pekka Sinikoski and Ilja Karsikas, among others.
This would not have been possible without AMO agency, which became our exclusive co-agent in Korea last month. AMO Agency introduces foreign language books to Korean publishers and more than 5000 foreign books have been licensed and published via the agency since 2007. Currently 6 agents (and 3 children) share happy daily lives, work and chats every day. According to AMO, people in Korea have great interest in Nordic design, for example, but the interest in literature from Finland yet has a lot of space and opportunities to grow . And the agency hopes they can contribute to introducing Finnish culture and literature more widely in Korea.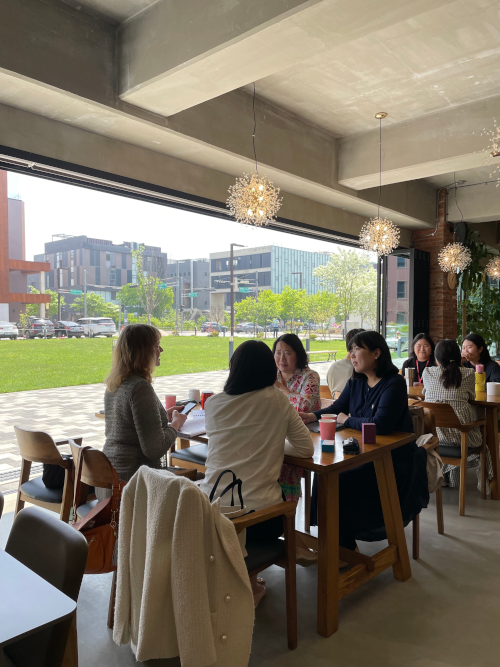 Some of the meetings were held in Paju book city, which is located about an hour's drive from Seoul. Paju is an amazing city of its own entirely devoted to the creation, publication and sales of Korean books. The place shows that the book industry in Korea is a respected area of business.
On Wednesday, our agents along with Korean publishers and illustrators were invited to the Residence of Finnish Ambassador in Seoul, where they could meet in a less formal setting.
We thank all our partners for their fantastic work and are excited to see what is waiting for us in the future.