Fantastic post-Bologna news: an offer from the English World for our Finlandia Junior winner A Giraffe's Heart Is Unbelievably Large, by Sofia & Amanda Chanfreaus, is now on the table.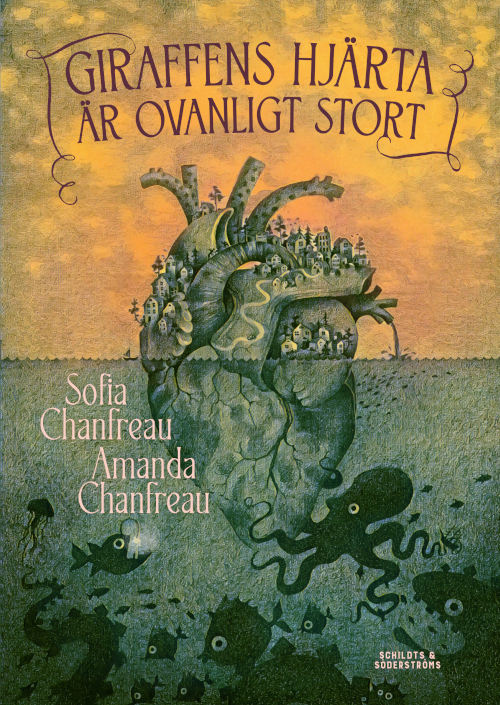 We are also excited to share that an auction is now ongoing in the French world.
Since the beginning of the year, foreign rights to this title have already been sold to 8 territories:
China (Mainland China, Simplified Chinese), Everafter;
Czechia, Host;
Denmark, Straarup & Co.; 
Estonia, Ühinenud Ajakirjad; 
Italy, Salani; (sold in a three-way auction);
Korea, Dasan; 
Slovenia; KUD Sodobnost; 
World Spanish, Océano
A Giraffe's Heart won the most prestigious literary award in Finland, Finlandia Prize, in the category of children's and YA books. It was also nominated for the Runeberg Junior Prize.
This illustrated novel for the middle grade readers is a tale of longing to be part of a family, to find one's place in the world, and to be loved as one is; a story of childlessness and dreams that fade or morph into nightmares. Page by page, it swells with inevitable force into a horror story that firmly holds the reader in its agonizing grip.
Whenever a ten-year-old Vega, who has always lived with her father, tries to ask about her mother, the only answer she gets is mysteries. Once a not-so-nice girlfriend starts dating her father, and Vega gets an unexpected pen pal, she decides to set out on an adventure to find out more about her mother. The book is a superb read for a child alone or for parents and children together.
The book has already sold close to 10,000 copies in Finland altogether.
The title is published in Finland by Schildts & Söderströms.
Congratulation to the authors for such a success!