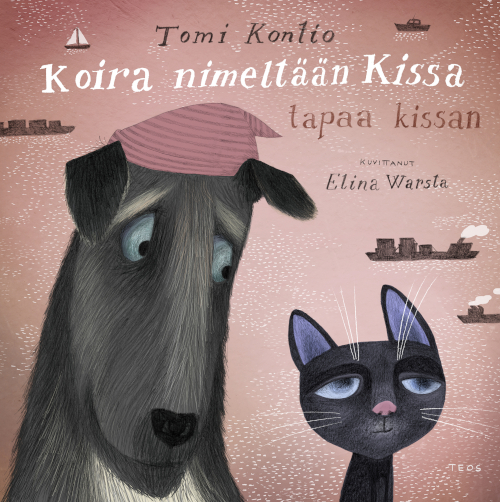 A Dog Called Cat Meets a Cat written by Tomi Kontio and illustrated by Elina Warsta, has been nominated for the Finlandia Junior Prize.
The beautifully illustrated book is a warm and wise story about friendship and overcoming one's fears. In it, the underprivileged but loveable characters find their everyday joys embracing the world with open hearts. As the jury stated: 

"The warmly narrated story, showing all flavours of life and its edges, offers deep reflection on the importance of finding your own path." 

A Dog Called Cat Meets a Cat is a stand-alone book that continues the story of two friends, Cat and Weasel. They met for the first time in A Dog Called Cat (2015), which was shortlisted for the Nordic Council Children and Young People's Literature Prize and nominated for the IBBY Honour List for Elina Warsta's illustrations. 

The author Tomi Kontio says:
"The heroes of this story are the outcasts of our world. When we encounter them in an underground train we want to change our seats; they are those whom we don't want to see, whom we are perhaps even a little bit afraid of. I do not want to politicise this book; I only want to show, through a warm story, that we all equally long for security, trust and love."

The illustrator Elina Warsta says:
"Cat, Weasel and Dog are multilayered, imperfect characters – just like us, humans. In our job, we can never forget that children read illustrations very carefully. I hope that in this book every child will find their own story. It is a story for a lifetime – meant for children as much as for adults."
Tomi Kontio (b. 1966) is an established Finnish author. He has received numerous awards for his novels and poems, including the Finlandia Junior Award in 2000 for his novel Daddy Grew Wings in the Spring. Kontio's poetry has been translated into many languages, including English, Spanish, French, German, Italian, Polish, Swedish, Czech, Hungarian and Estonian. 
Elina Warsta (b. 1979) is an illustrator and graphic designer. Several of the book covers she has designed have won prizes in The Most Beautiful Book of the Year competition. Books she has illustrated have been published in France, Japan and Latvia.

Finlandia Prize is the most important literary award in Finland, given annually in three categories: the best novel, the best children's or YA book and the best nonfiction book of the year. The award sum is 30,000 euros. 

Previously, two other HLA's authors have received the award in children's and YA category: Sanna Mander (The Lost Key, 2017), Vilja-Tuulia Huotarinen (Light, Light, Light, 2011) and Tomi Kontio (Daddy Grew Wings in the Spring, 2010).