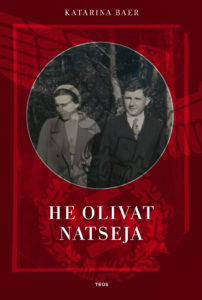 Katarina Baer's They Were Nazis, the winner of Bonnier's Grand Prize of Journalism as the best book of the year, has been sold to Post Factum in Estonia.
Post Factum, owned by the largest media group in the Baltic states, Eesti Meedia, that publishes for example the Estonian newspaper Postimees, is a new publishing house with a growing list of quality literature by Estonian and international authors. They are the Estonian publishers of eg. the latest Finlandia Prize winner Jukka Viikila, the European Union Prize for Literature winner Selja Ahava, and the huge international television success, J. M. Ilves' Bordertown books.
They Were Nazis tells the story of the author's Baltic German grandparents – a personal, thoroughly researched story of how good people turned nazis.