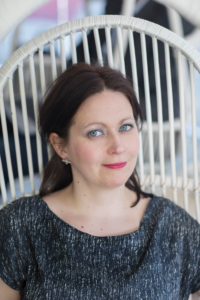 Henriikka Tavi's novel Tellervo has been nominated for Runeberg Prize, often considered to be the second most important literary prize in Finland.
Tellervo  is a funny, cheeky and slightly awkward story about a woman called Tellervo. She has three university degrees – but she works in a kiosk. She has one friend, no partner, and her inner world is tumultuous – except that she is constantly feeling empty inside.
When Tellervo decides to follow the advice of a self-help love guide, things start to happen. The Runeberg Prize nominations board stated that "on the side of the mischievous smile the novel points out the excessive and sometimes even tragic demands that our culture seems to set for leading a happy life".
Henriikka Tavi (b. 1978) is a poet who's first poetry collection Eg. Esa  (2007) received the Helsingin Sanomat Literature Prize. It was followed by the collection Dictionary  (2010) and Hope  (2011), the latter of which won both the Kalevi Jäntti prize as well as the Dancing Bear Prize, awarded by Yleisradio. In 2012 Tavi published a poetry collection each month in the project by the poetry publisher Poesia, called 12 . Tellervo (2018) is her first novel. Read more about it here.