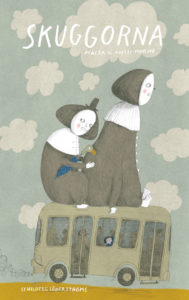 Maija and Anssi Hurme's illustrated children's book SHADOWED, described as "brilliant illustrated narrative" that hits "the artistic bull's eye", has been nominated for Finland's most important literary prize.
Shadowed is a mysterious story about a child, a father and a great longing. One morning, there is an unfamiliar character in the child's room. No one else can see it, but it follows the child everywhere. It makes eating breakfast or playing with friends difficult. It asks for the scariest bedtime story.
And it seems to have something to do with the mother being gone.
The story, subtly illustrated, does not name the shadow – it could be sadness, worry or longing. Bit by bit, its slightly scary presence turns friendlier and finally it loosens its grip.
The Finlandia Junior Prize nominations board statement on Shadowed reads:
"The multi-layered picture book handles sorrow and losing someone excellently and concretely. The illustrations and the layout form a harmonious whole. The colors and the narration lead the reader towards lightness: you can let the sorrow go. The feelings the book describes touch both the children and the adults."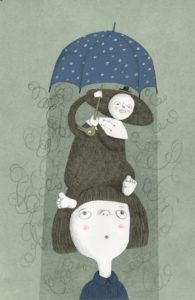 Maija Hurme (b. 1976) is a visual editor and graphic designer in the daily broadsheet Hufvudstadsbladet. She has illustrated several children's books, three of them together with Anssi Hurme (b. 1976), who is also a graphic designer who runs a design business.
Shadowed was published in 2018 both in Swedish (original) by Schildts & Söderströms and in Finnish (original) by Kustantamo S&S.
Finlandia Prize is the biggest literary prize in Finland, given out to the best book of the year in three categories: fiction, nonfiction and children's and young adult books. The prize in each categories is 30,000 euros. The winners will be announced on November 28th.
Read more about the book here.